SAA Montreal Local: 514-418-5920
NEW -
Simpler SAA Montreal website
SAA's purpose is to stop our addictive sexual behaviour and to help others recover too.
The only requirement for membership is a desire to stop addictive sexual behaviour. There are no other requirements for one to walk through the door.
This site, content and views are of a local group of recovering sex addicts, and may be coherent with and in line with the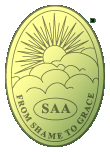 ISO of SAA, Inc whose website is
Sex Addicts Anonymous
SAAMontreal is a fellowship of men and women who share their
experience, strength and hope
with each other so they may overcome their sexual addiction and help others recover from sexual addiction or dependency.
For answers to questions relating to the local group write
MontrealSAA@gmail.com