SAA Montreal Telephone: 514-418-5920
NEW -
Simpler SAA Montreal website
This is the site for the Sex Addicts Anonymous Montreal group, or SAA Intergroup, one of many registered groups of recovering sex addicts who follow the Twelve Steps and Twelve Traditions of Sex Addicts Anonymous, ISO, (SAA ®).
This
website and views expressed are individuals' and not SAA's or the ISO of SAA, Inc.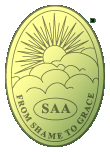 The
Sex Addicts Anonymous
(external link) website is overseen by the ISO of SAA, Inc., through its Board of Trustees who are elected by delegates who represent its member groups.
Sex Addicts Anonymous®, SAA, is a fellowship of men and women who share their
experience, strength and hope
with each other so they may overcome their sexual addiction and help others recover from sexual addiction or dependency.
SAA's basis on the principles of Alcoholics Anonymous and its primary purpose is to stop our addictive sexual behavior and to help others recover too.
The only requirement for membership is a desire to stop addictive sexual behavior.
A person or persons of any religion, race, ethnicity, status, sexual orientation, or profession may walk through the door.