SAAMontreal is a fellowship of men and women who share their experience, strength and hope with each other so to face, accept, recover and help others recover from sexual addiction.
Access to our meetings is not published. You are welcome to join by calling or writing.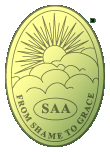 In recovery we face our truth of compulsive addictive sexual behaviour, and work the Twelve Steps, and we may find recovery and help others do the same.
For answers to questions relating to the local group or to join a virtual meeting write MontrealSAA@gmail.com